MAY NEWSLETTER
Quote of the Month
"Every individual matters. Every individual has a role to play." – Jane Goodall
GROUP SUPPORT
Dear Supporter,
April and May have been busy and successful months with the introduction of workshops for parents and planning with local schools to introduce Sex Education programmes and integration programmes for our patients.
Our Psychologist of 3 years, has been joined in his workshops by Luz, our teacher who has been supporting the children involved in the 'Back To School' Programme.
Luz has been helping Henry with the activities to boost self esteem in the Mothers groups and they have been a huge success.
Our dynamic duo, Claudia and Eliana, have been continuing with their in house therapies and the new motorbike has been a great success allowing them to reach hard to reach areas and support families in need.
Our main concern is funding.
Since the pandemic we have struggled to secure any new grants as the demand is so great by so many.
We have applied to over 25 grants this year so far with no luck.
As travel to Peru is still not easy we are unable to push for a re launch of our volunteer programmes and apart from events and our ongoing sponsors, we are hitting walls to firm up any new funds.
We are therefore hoping that our lovely Kiya family can step in once more and help us with ideas for fund raisers; spread the word for sponsoring our projects to friends and family and support us in creating a sustainable future once again.
If you feel you'd like to get involved, sponsor a child or help in some way please contact Suzy directly: suzy@kiyasurvivors.org
Many thanks for your support and belief in our work.
EDUCATING COMMUNITIES
As our 'Back To School' Programme came to a close at the end of April, we turned our focus on the schools our students have joined, working with them to introduce Sex Education workshops and integration programmes.
We have successfully established an agreement with our first secondary school and we look forward to sharing news on how our launch goes, next month!
The house visits now include a 'check in' to ensure our students are doing ok at school and topping up their needs as we see necessary with help from our most excellent team!
All our onsite teams are from the local area, Peruvian and specialists in their area.
Education is something many of us take for granted, like running water and a fridge full of food. These are a luxury for many around the world and we are proud to be helping in our small way in the communities we support, ensuring more children receive information, education and help, that should be a global right to all.
SPONSOR A CHILD
£3 A MONTH…CAN YOU HELP KIYA BECOME MORE SUSTAINABLE?
We are trying to increase our monthly sponsors to ensure our programmes and children's futures are sustainable and to avoid us relying on big grants, we are once again, pushing our sponsorship programme.
Just 75p a week makes a big difference!
£3 a month = materials for 1 child to join the Back To School Programme each month
£10 a month = Transport and therapy costs for one patient to receive weekly therapy
£20 a month = A weekly therapy session with our Psychologist
£50 a month = A medical assessment with a specialist for 1 child
It takes 3 minutes to sponsor a child.
Do you feel you can support Kiya?
THE LAGOS KIDS
The Lagos siblings are doing well. The brothers Juan and Yelson are studying hard and showing responsibility with the funds Kiya sends for their living needs every month and we are excited to see that they are moving closer to living totally independently.
Juans enthusiasm for football continues to thrive and he is enjoying learning new tricks and taking part in his tournaments. Despite the frustration of continued online learning, he is working hard and shows determination in all his endeavours.
The monthly family meet ups ' Sunshine Sundays' are a highlight for all 5 siblings who enjoy seeing each other, catching up and spending quality time together.
Huge thanks to everyone who continues to support the family with educational costs, living expenses and the 'Sunshine Sunday' activities!
ACTIVE KIYA GETS ACTIVE!!
We have filled all 3 for THE BIG HALF LONDON MARATHON in September but still have a few places for the TRES PICOS CHALLENGE in Spain.
If you fancy an adventure under Spanish skies, get in touch for more details!!
AMAZON SMILE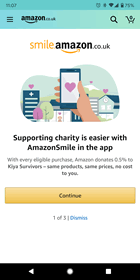 If you have the Amazon app, it's a super simple process to set up with AmazonSmile.
Here's what you do:
Go into your app and in the top left-hand corner, find the dropdown menu and select "See All Programmes".
Scroll down and click onto "Amazon Smile" and it's an easy set up from there!
From then on, when you shop, Amazon will donate 0.5% of the order price to Kiya Survivors at NO extra cost to you!
That's it from us this month!
Thanks for all of your support.
– Suzy and the Kiya Team x