Seeing a child and their family turn the corner and become a family after months of therapy and support to help them learn to love their children, to see them actually accepting and loving them. It's a special thing.
Suzy Butler, Founder of Kiya Survivors
THE RAINBOW CENTRE TEAM
In 2001 Kiya Survivors built and opened the doors to the first special education centre in the Sacred Valley, The Rainbow Centre. After 14 years of successful direction and teaching the importance of special education to the local ministry of education, we are proud to say that they now direct the centre and Kiya has taken a huge step back passing the reins over to them to take the lead!
We now provide therapy and psychological support along with site maintenance and volunteer support to aid them in their development of the centre. A great partnership with local authorities making a united difference to those in difficult home situations and with disabilities and learning difficulties.
Juan
Site Maintenance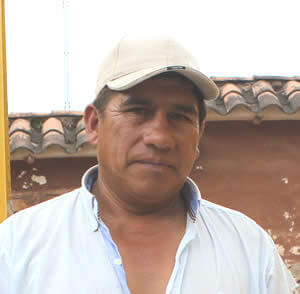 Juan is in charge of the maintenance for all Kiya's projects in Urubamba!
He helps plan and build toilets/install water and make repairs in the homes of families we support through Outreach; makes repairs at, and takes care of The Rainbow House, and helps maintain the outdoor spaces at The Rainbow Centre and takes care of the animals on-site.
Liset Oceda
Physiotherapist
Liset is the Physiotherapist for Kiya Survivors in Urubamba. She studied her degree in Lima but moved to the Cusco region in 2013.
She has worked in many different clinics with both adults and children with disabilities and has also worked as a Massage Therapist.
Liset has a lot of patience and therefore she enjoys working with kids with disabilities.
Rodrigo Mora Carcamo
Psychologist
Rodrigo studied at University in Lima and trained as a Psychologist as he has a particular passion for working with children and helping those who are vulnerable and in need of support.
After graduating, he worked for 7 years at a children's hospital in Lima helping patients with a variety of therapies.
Since May 2016 he now lives in the Sacred Valley where he has worked as a Psychologist in local schools to support children with behavioural and learning difficulties.
He joined the Kiya team in February 2018 and will be working with our children on-site at the Rainbow Centre and leading expansion of our Outreach Programme.
Delfina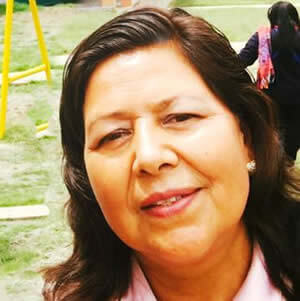 Delfina is a local Primary school teacher from Urubamba who has been supporting and working with Kiya Survivors for 20 years hosting our volunteers in her family home. Her sister, Juana, was The Rainbow Centres first Director in 2001.
Since 2017, Delfina began working at The Rainbow centre and has been leading the project forward as the new Director. She acts as a mediator between the local authorities and Kiya, ensuring we are all working together and with the same ethos. She also helps manage the team, ensures the centre is organised and forever growing and progressing and has done a fantastic job at bringing the place back to life enrolling over 30 children so far and injecting the school with determined energy and focus.
THE RAINBOW HOUSE TEAM
The Rainbow House is a beautiful two-storey house with a garden in Urubamba where children can live happily and safely. Kiya Survivors employs two substitute mothers to look after the children to make sure they are always well fed, cared for and safe.
Luisa
House Mum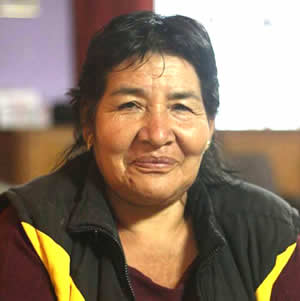 Luisa has been with Kiya Survivors since 2003!
She was a cook at the Rainbow Centre from the day it opened and now she works as one of the substitute Mums at The Rainbow House caring for the kids here throughout the week.
She is grateful to be a part of the NGO family and her son, Michel who has autism, has improved greatly thanks to the amazing therapists who support the Kiya kids.
She considers the Rainbow House her home and the children adore her.
Rocio
House Mum
Rocio is Luisa's daughter-in-law and works at the Rainbow House as the House Mum on weekends, cooking and cleaning and caring for the kids.
Rocio has worked for Kiya since 2016 and working the weekends at the Home means she can bring along her young daughter Milet who is the same age as Paty, who as the youngest girl at the house, greatly enjoys having her friend come at weekends so the girls can play together whilst Rocio works.
Rebecca Michel
Administration and Sponsor Manager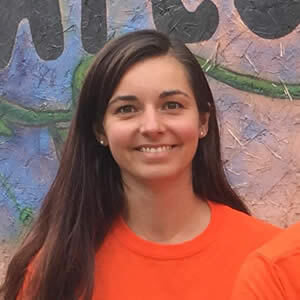 Rebecca is a trained Social Worker who has a passion for other cultures, supporting people less fortunate than herself and travelling.
In 2016 she got a job offer in Urubamba and moved from Switzerland to the Peruvian Andes.
When her years placement finished, she was excited at being offered a position to join the Kiya team as Sponsor and Admin Manager for the projects in Peru.
Becoming part of the Kiya Survivors Team is a great chance for her to learn more about NGOs and Administration. She will work as the contact person for the Kiya Sponsors and keep them up to date with news on the ground, directly from the projects.
Giancarlo (Foncho) Boas
Rainbow House Project Manager & Finance Manager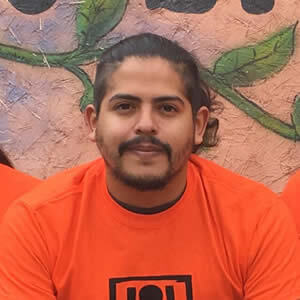 Giancarlo (Foncho) is Project Manager for The Rainbow House here in Urubamba.
He is responsible for coordinating everything related to The Rainbow House and manages the on-site Peruvian staff team.
His background experience is in finance and marketing and he has also had experience working with a couple of NGO's in Lima, where he used to live.
Foncho has been working for Kiya since October 2016. He really enjoys working with children and is very happy with his role and has developed a really close and supportive bond with all the Rainbow House kids who look up to him!
Rosie Brockett
Volunteer Programmes and Social Media Manager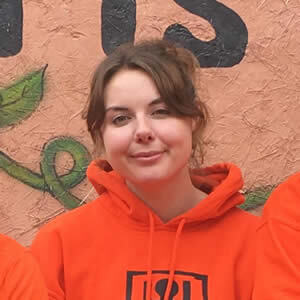 Rosie first came out to work at our projects in Urubamba as a volunteer in September 2016 and now works for Kiya full-time as our Volunteer Programmes Manager – coordinating all aspects of organising the Individual and the Groups Programmes and supporting them throughout their time working at the projects.
She also handles all our social media presence and our volunteer ads on various websites.
She has a keen literary interest and enjoys writing our monthly Kiya Newsletters and fundraising ad campaigns.
Rosie has a background in educational support work with students with special needs and disabilities so especially loves that her ongoing role with Kiya enables her to continue to work with all our children at the Rainbow Centre.
THE MAMA COCHA TEAM
In 2015 we successfully re integrated all of our live in service users at Mama Cocha to their family homes and the centre expanded their programmes providing a more holistic support to the community.
The team at Mama Cocha currently consists of local professionals including therapist's and teachers from the community, running an eclectic range of programmes covering early stimulation, parent workshops, life skills workshops, therapy and counseling.
Deilly Hedu Gaurto Zapata

Project Manager of the Mama Cocha Complex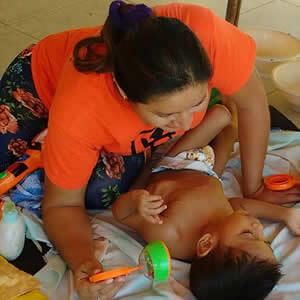 Hedu is the Manager at Mama Cocha.
She is in charge of the daily running of all the programmes and financial management/administration of the centre along with the welfare of the children and staff.
She coordinates and enforces the social programmes run at the centre, presents and undertakes projects and also seeks support from donors to the centre.
Hedu has been part of the Kiya family and been managing Mama Cocha since 2001 and her hard work and dedication show through the success of the projects she leads.
Yulet Cisibel Camer Moreno
Physiotherapist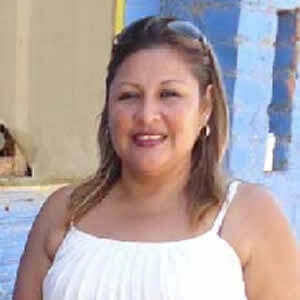 Yulet is the therapist at Mama Cocha. Like Hedu, she has been working with us since 2001. She lives with her 3 children in Los Organos nearby to the centre.
In 2016, Yulet's husband sadly passed away, so Yulet is raising her children alone whilst providing an essential service to many children with disabilities in her community. She is a truly dedicated lady with a passion for helping others.
10 years ago she adopted Claudia, a little girl with Down Syndrome who was abandoned on our door step. Claudia lives with Yulet and her other children, and is a happy delightful girl.
Karina Cordova Huarderas
Psychologist
Karina is a highly experienced professional child psychologist and although she's not a permanent employee on-site every day, she is now working with our staff team at the Mama Cocha Centre on an ongoing basis to provide her support and expertise to help ensure the best care for our service users at the centre.
Her responsibilities include carrying out psychological evaluations of all the children in all the programmes the centre runs, implementing ongoing treatment plans, holding lectures and workshops for the benefit of the families and teaching staff, creating an evaluation and treatment file for each child which she will continue to contribute to on her visits to the centre.
Vanessa Pazos Manuyama

Early Stimulation Teacher for Tres Pasitos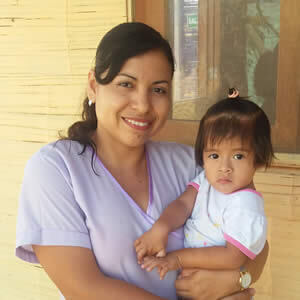 Vanessa is responsible for the early stimulation programme at Tres Pasitos. Her daily role involves the care of all the children in the nursery, supervising them in the classroom and creating the curriculum and activity schedule which she does with a lot of dedication and commitment.
Vanessa has an important role in encouraging early developmental progress and is constantly thinking of new ways to engage the children in fun and stimulating activities!
Elena Sheefer Quilcate

Teacher of the Functional Skills Programme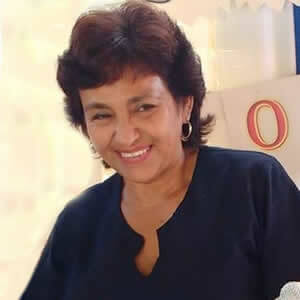 Elena works at Mama Cocha in the afternoons with a group of children from the community. She is responsible for planning and running the occupational workshops which are open to poor children of the community, with and without disability, and are particularly designed to help develop the functional skills of the young adults with learning difficulties in attendance at the programme.
Elena gives the emotional and educational support through her role as teacher and all the young people look up to her. She's full of creativity and good ideas and is a very patient and caring role model for all our young people and an integral member of the Mama Cocha Team.
Daniela Calero

Assistant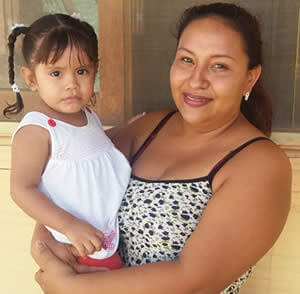 Daniella is our assistant teacher in the nursey. Her role is to help out in the classroom, taking care of the children and helping Vanessa with the day to day running of the nursey's schedule of activities.
Daniella is a passionate member of the Mama Cocha staff team. She is a single mother and her son has hemiplegia (a condition where one half of the body is paralysed) and psychomotor delay and attends the Mama Cocha Therpy Centre for treatment with Yulet.
Daniella also trained as a nurse which is huge asset to our Team! She is kind and compassionate and great with all the kids who look up to her as a mother figure.
Carlos Enrique Medina

Night Watchman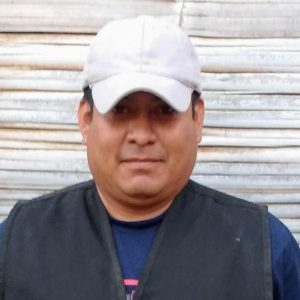 Our security guard at the Mama Cocha Centre is Carlos and he takes care of the centre every night from 8pm until 6am to protect against break-ins and burglary. Carlos keeps the records of everyone coming and going at the centre and ensures the centre's safety.
The shanty town around the centre can be a dangerous place, especially at night, so we are very grateful to have Carlos on board!
CHANGE A LIFE TODAY
A young life can be positively impacted by even the smallest of gestures. Do something wonderful today and change a life for the better.