Kiya Survivors is a wonderful charity, providing an essential service. I loved every minute of my volunteering in Urubamba, and will never forget all the incredible people I met – children and staff.
Carol, Volunteer
GROUP VOLUNTEER PROGRAMME
Kiya Survivors operates its volunteer programme to ensure there are enough hands to help with the young people in the centres, to encourage new ideas and enthusiasm amongst the staff and to help raise money for all our projects.
Kiya Survivors offers volunteer programmes in Peru for groups of young people aged 12 – 18 years old.
Kiya Survivors is dedicated to improving the life chances of children and young people. We believe that programmes benefiting both the visiting young people and our projects are vital for a successful future.
The Group Volunteer Programme introduces young people to some of the challenges faced by children and young people around the world. We also think it gives them a once in a lifetime experience of working closely with some truly special people.
Sponsorship and travel insurance
All volunteers are responsible for their own sponsorship – we do not offer financial support ourselves to volunteers. We require all volunteers to provide proof of travel insurance before departure. Insurance is not included in any of our programmes. Kiya Survivors cannot refund ANY funds lost on associated travel arrangements for your programme. All costs paid to Kiya Survivors for your programme, are non-refundable.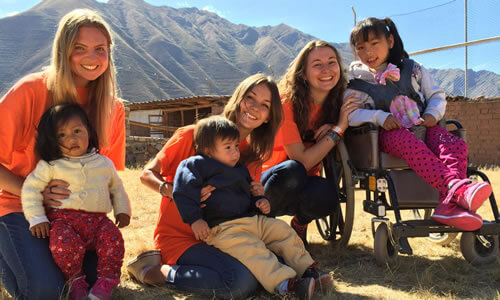 AIMS OF THE PROGRAMME
To enable participants to look at and begin to understand other ways of living, experience a different culture and see first hand the challenges facing developing communities
To provide participants with an inspirational and rewarding personal experience
To support and develop participants' interpersonal and leadership skills
To provide a varied menu of activities that combines project work with travel, an experience that they will remember for the rest of their lives
To show young people that they can make a difference
To ensure ongoing financial and practical support for the centres.
THE PROGRAMMES
Our group programmes are flexible and can be designed to meet the needs of your group. Programmes are organised by a dedicated Programme Coordinator, who will assist you though each step of the process.
Safety of the group is paramount. Groups participating in the Kiya Survivors volunteer programme are met at Lima airport by one of our bilingual coordinators, who remains with the group at all times. Care has been taken in designing all group itineraries to ensure that the group is safe and supervised yet experiences as much as possible and experience both the challenges and the magic of Peru.
We can take groups to both areas where we run our projects. In the South they will have the opportunity to visit some of the most spectacular sites in Peru like Machu Picchu and The Sacred Valley and meet the young people we still support in Cuzco to learn about their journey with Kiya.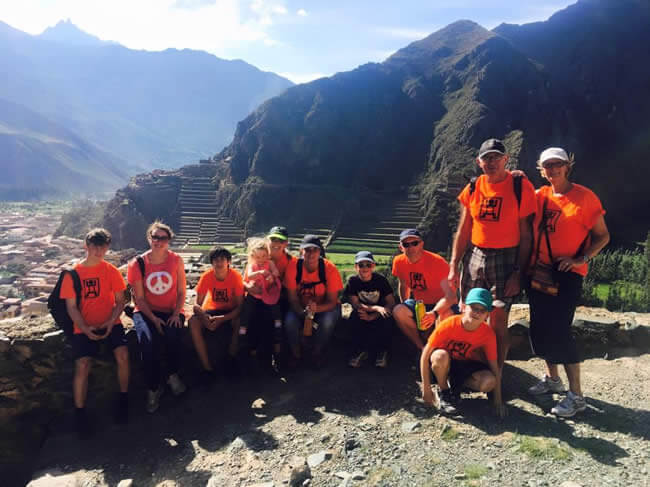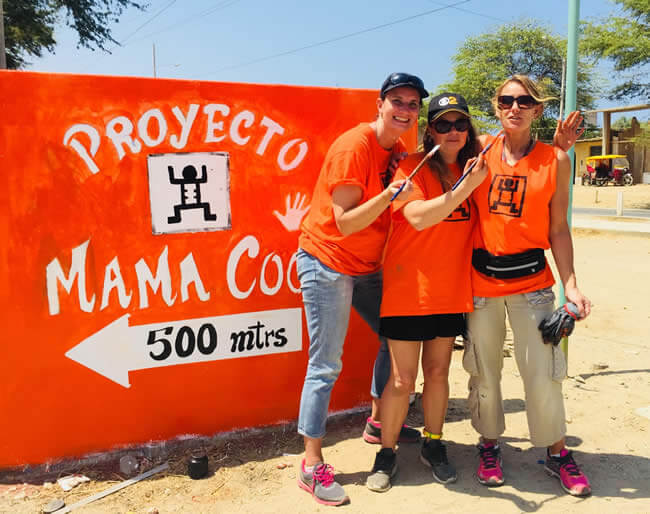 In the North in Mancora, groups will have the opportunity to work hands on with the team at the Mama Cocha projects, getting to know the children who receive therapy and helping assist the team here with their patients. Groups can run workshops and activity days for the children who access the services at Mama Cocha, including a day of games on the beach with picnic lunch for children and their families and Mama Cocha staff. Trips to the mangroves, local waterfalls, swimming with turtles are some of the highlights to visit in this area.
The projects we offer on the group volunteer programme are carefully designed to meet a genuine need; we do not undertake projects that are not required by the children, young people or families of the communities we work with. They must also be sustainable; we only undertake projects that improve existing services or new projects that we can commit to continue to run.
The Group Programme Coordinator can visit you and your group to talk about the programme and the work that we do in our centres. There is no obligation to sign up for a programme if we come to visit you but we do appreciate help with travel costs.
Before departure a 2 day training programme can be delivered to your group by our Group Programme Coordinator in your local area.
Please see our Volunteer Blog for the opinions and thoughts of current and previous participants of the Kiya Survivors Group Volunteer Programme.
To discuss this programme, please click the button below, send us an email to volunteer@kiyasurvivors.org or call us on +447894747470 and we will be happy to hear from you!
After three of the most enthralling, rewarding and emotional weeks of my life – after being home, not having to religiously apply insect repellent morning noon and night has been a nice touch! I have recently returned from my three and a half week service project at the Rainbow Centre in Peru! What an amazing time I've had!

The Rainbow Centre offers unique help and therapy to those who need it – particularly those in isolated areas who may not have access to the help needed. Kiya Survivors staff do an amazing job teaching these children not only new skills and qualities to help them become more independent but also to be able to cope with day to day life with as little stress or physical pain as possible.

A typical day at the Rainbow centre starts at 9am with brain gym; an exclusive routine to help them become more aware of themselves and their surroundings before starting the playful and academic day. This periodic mind 'workout' consists of games and highly relies on using senses and exercising their bodies to ensure they perform to the best of their abilities and stay healthy. Not to mention being great fun for the children and the adults and a good time to get to know them better!

Once the children begin to separate into smaller groups such as Primaria and Physiotherapy myself and the fellow volunteers were able to help in the classrooms with more one-on-one interacting with the children and learned more about their conditions and disabilities and what we can do in our time there to help them.

In the mornings we worked and played with the children and in the afternoons we were busy with our project work! Our projects were to decorate the external parts of the Rainbow Centre such as painting the stage, a giant snakes and ladders board in the courtyard, re-painting the kitchen area and paining train tracks from classroom to classroom. It was hard work but felt amazing to see the finished result and how pleased and excited the children were!

Whilst we were in Peru, we also got the chance to visit two of Peru's most famous landmarks, the first being Machu Picchu which was an amazing experience – and much bigger than I thought it would be! It was hard work on the way up but well worth the climb when we got there and had chance to have a look around. We also ventured to the Amazon and enjoyed a picturesque 5 hour boat ride down the Tambopata River until we arrived at our far-out accommodation. Apart from the spider bites and possum in our room at two in the morning, it was an amazing, memorable experience!

As well as the stunning scenery, breath-taking landscape and thoughtful locals-the food was not only one of the highlights of the trip, but also one of the concerns we had prior to getting there. Our meals were mostly cooked for us by Louisa who was the wonderful cook at the Rainbow Centre who did an incredible job at feeding all 20 of us with delicious food day after day! My favourite meal for the trip-besides sneaking off for a burger and chips in Machu Picchu and finally indulging into a hearty McDonald's in Lima! It was Louisa's pasta carbonara which was a huge hit with the girls, so much so we managed to convince her to cook up the marvellous creation again! I would definitely say Peruvian food is some of the most versatile and flavoursome food I've ever tasted!

The trip to Peru was an incredible once in a lifetime experience. I met some of the most amazing, interesting and devoted people out there and made so many new friends whilst out there! I gained memories I will cherish and never forget.

For anyone who has the chance to be included in any trip as amazing as the one I was offered – I would urge you to leap at the opportunity! Peru was an amazing country in itself but to be able to come home and look back on the work we did – is extremely rewarding and heart-warming.

Damaris
OTHER VOLUNTEER PROGRAMMES
Volunteers can also choose whether to work with us as an individual, or as a family. Learn more below.