My volunteer programme was one of the most rewarding and enjoyable 8 months of my life, an opportunity to learn new skills (and a new language!) and meet some truly inspiring people whose friendship will stay with me always.
Rosie, Volunteer
INDIVIDUAL VOLUNTEER PROGRAMME
Due to COVID-19, Kiya Survivors is unfortunately unable to accept any volunteers in Peru until further notice. If you'd like more information on how to volunteer in Spain, or in the UK, please contact: info@kiyasurvivors.org
Kiya Survivors operates its volunteer programme to ensure there are enough hands to help with the young people in the centres, to encourage new ideas and enthusiasm amongst the staff and to help raise money for all our projects.
Founded in 2001, the Kiya Survivors volunteer programme is the invaluable building block that has enabled Kiya Survivors to expand and provide professional care and help to more children and young people in need.
Our volunteer programmes are designed to give volunteers the opportunity to visit and live in a fabulous country whilst making a positive difference to the lives of disadvantaged children, young people and their families. Volunteering with Kiya Survivors promotes individual development and is a rewarding and fun experience!
At Kiya Survivors, one of our main aims is to educate families and communities on special needs, to encourage understanding and acceptance and thus break away from the belief that many communities still hold, that children born to be different are a curse.
Sponsorship and travel insurance
All volunteers are responsible for their own sponsorship – we do not offer financial support ourselves to volunteers. We require all volunteers to provide proof of travel insurance before departure. Insurance is not included in any of our programmes. Kiya Survivors cannot refund ANY funds lost on associated travel arrangements for your programme. All costs paid to Kiya Survivors for your programme, are non-refundable.
Activities you can get involved in
Assist teachers with classroom support and daily school life
Work alongside locally employed staff teams
Meet local families through the Outreach Programme and gain insight into typical Peruvian lifestyle
Assist our therapy team with their patients and workshops
Have the opportunity to teach English to local children
Have fun organising activity workshops in topics of your interest – music, dance, arts and crafts, cookery, etc
Get involved with various sporting events with the students
Get involved in any construction projects currently being undertaken by the Outreach Programme to improve home sanitation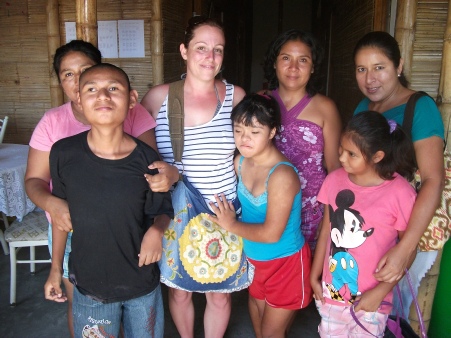 Support for volunteers
In the UK: right from the start, our volunteer coordinator will be in close contact to ensure that the application process will be as smooth as possible for you. You have the option to arrange a Skype call before your arrival to discuss any details about your volunteer programme and travelling in Peru.
In Peru: once you've arrived, our English speaking coordinator will always be on hand to offer support and advice during your stay with us. You will have a weekly individual meeting with your coordinator to plan your volunteer work schedule and check-in about how you're getting on with life in Peru!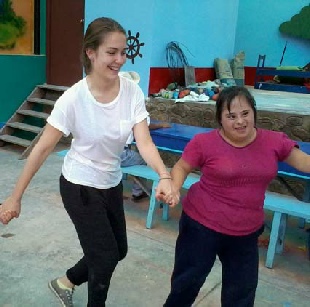 When can I start volunteering with Kiya Survivors?
We send volunteers to our centres all year round. Most of our volunteers sign up between 2-12 months before departure, which allows for the opportunity to fundraise, prepare, and receive all relevant information and training.
If you want to join a programme leaving in less than 2 months please contact us to discuss your options and see if we have any available positions.
Where will I live?
In Urubamba, Kiya Survivors provides comfortable accommodation with a local family. This gives you the opportunity to experience Peruvian hospitality first-hand. It will also give you the chance to practice your Spanish!
Volunteers are always allocated their own private room, but there are rooms available that can sleep up to 3 people if you're coming as a small group of friends to volunteer together and would prefer to share! The rooms are spacious and fully equipped, the shared showers have hot water – a luxury for Urubamba! There are also communal spaces for you to mingle with one another as well as your host family.
Urubamba is a reasonably sized Andean market town, just over an hour away from Cusco. It is set in the heart of the Sacred Valley of the Incas and is surrounded by beautiful mountains and breath-taking scenery. Most of the locals farm and there are a lot of markets and always opportunities to buy fresh produce. During weekends off, volunteers can explore the other beautiful towns and ruins in the surrounding valleys. With a range of activities available including walking, hiking, camping, mountain biking and paragliding, there is something for everyone here!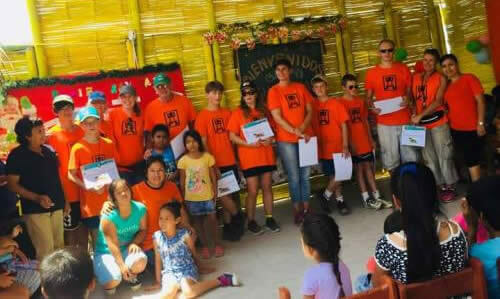 Volunteer training
Training sessions will take place upon arrival in Peru onsite at the project where you will be based. The training sessions are tailored to meet the needs and interests of the volunteers taking part. Typically, it covers a wide range of aspects of the volunteer experience including shadowing the different members of staff to give you an idea of where you would like to focus your energies, the opportunity to meet and have questions and answers with the Peruvian team and a day out on Outreach.
Though we didn't know a word of Spanish we immediately felt welcomed by everybody. Spending the day shadowing staff members, we got to know some of the children, and Mel told us their stories – at first you don't believe what you're being told, but you eventually find out how much they've all improved.

There is so much to do in Urubamba – if you're not at school or having Spanish, you're playing volleyball with the Rainbow House kids, walking a small hike, going out with other volunteers in Urubamba, playing football with locals, relaxing in our hammock or shopping for groceries and being creative when it comes to dinner.

Deciding to volunteer for Kiya Survivors has been the best decision I've made so far – and I'm finding myself in the middle of having the time of my life every day!

Anna Clara Laugesen
I am coming up to finishing probably the most amazing 6 months of my life volunteering at the Rainbow Centre. When I arrived in Peru I could never have imagined how much I would grow to love the school, the kids and the staff. The school is such a warm, friendly, happy place.

My favourite experience has to be a parade to celebrate the month of special needs education, where the kids, along with their families, marched through Urubamba, and were so proud to represent the Rainbow Centre. It was really touching and it made me feel very proud to be a part of this amazing project!

Sameena Zehra
OTHER VOLUNTEER PROGRAMMES
Volunteers can also choose whether to work with us as part of a group, or a family. Learn more below.